The Melbourne Cup stops not only Melbourne but also the rest of Australia. But it is in Melbourne where the race is run that so many events and things are happening to excite the senses! Just as the gorgeous backdrop of the Maribyrnong River gives depth to Flemington the Yarra River in Melbourne is abuzz as a centre of activity during Melbourne Cup Weekend.
It is Spring time in Melbourne for the first Tuesday in November and fashion, fillies and colts are key talking points as well as what will you be doing before, during and after the big horse races. Yes... it's all about a horse race, but with so much going on it's easy to forget it's not just one big party! The night before is Cup Eve with lots of great parties at venues and then of course if you are not at the course there are some many options for Melbourne Cup Lunch at super restaurants and venues all over Melbourne. Finally there are the after party options to dance the night away.
We have compiled some great ideas for your Melbourne Cup Day! We hope you back a winner!
Cup Day Events - Eve, Lunch and After Party Venues in Melbourne
Restaurants and venue ideas for your Cup Day in Melbourne. So if you can't be at Flemington for the race then you can still have fun and even feel like you are there!
Cup Day on the Rooftop

Catch some sun and enjoy all the race day action on the rooftop at the Imperial. With all the racing LIVE on the jumbo tron you wont miss a thing as you try out the new spring spritz menu.

Spring Spritz Menu - $16 each

Website

|

Email

Melbourne Cup Breakfast

Be treated to a sparkling breakfast this Cup Day at Harry's Restaurant inside the Stamford Plaza. You'll be indulged with 2 hours of free flowing Lois sparkling wine, plus oysters, deli counter, decadent chocolate fountain and more. The perfect start before heading off to Flemington.

Cup Day Breakfast: $65 per person

Website

|

Email

Spring Racing

The Wharf will be sweeping into action this Melbourne Cup Day with big live action screens making sure you catch all the Flemington winners. There will be cup sweeps and later live music. Full A La Carte menu available from 12pm.

Race Day Action LIVE on the Big Screens

Website

|

Email

Melbourne Cup Bubbles & Blossoms

Get in the spirit and don your racing finery this Cup Day at the Albion Rooftop. Watch the races LIVE on the screens. Be treated to free flowing bubbles, beers and blossom cider plus canapes. Take part in the sweeps, get your hair and make up touched up and be entertained by LIVE music.

Tickets from $90

Website

|

Email

|

Tickets

Casaloca Penthouse Summer Sessions | Melbourne Cup Day

Dance the night away after the big race with this fantastic summer session. Enjoy a presecco on arrival and 2 hours of canapes (4:30-6:30pm) plus an amazing array of Melbourne's best DJs helping you party into the night. Don't miss the spectacular view of sunset.

Tickets: $35pp ($50 at the Door)

Website

|

Email

|

Tickets

Spring Racing at Hopscotch

Fuel up at Hopscotch this Spring Racing Carnival. Be entertained with LIVE Music on all the major race days. Enjoy all the major race days LIVE on the Big Screens throughout the venue. With DJ's into the night on Cup Eve, Cup Day and Stakes Day

Make a booking

Website

|

Email

Melbourne Cup Day

Harlow is bringing out the glam this Melbourne Cup Day. Enjoy Sweepstakes and Prizes for Best (& worst) Dressed. Plus the big race LIVE and Loud on the screens followed by a DJ music to get the party going. A la carte menu also available.

Bottomless Bevvies + Shared Snacks - $55

Website

|

Email

Melbourne Cup Day Luncheon

Ludlow is situated in Southbank right on the Yarra River and is the perfect venue for your Cup Day Fix. Enjoy a 3 course Luncheon and Drinks Package and Watch all the races LIVE on the screens. With sweeps & prizes for best dressed also on offer.

Luncheon Package: $85

Website

|

Email

|

Tickets

Melbourne Cup Day at Y & J

This Cup Day leave the busy streets of Melbourne behind and head in to Young and Jackson. Enjoy Sweeps & LIVE Entertainment. Plus all the races LIVE on the Big Screens. An iconic Melbourne race at an Iconic Melbourne Venue.

Full TAB Facilities | LIVE Entertainment

Website

|

Email

Melbourne Cup Accommodation

Travel in style this Melbourne Cup Day and stay at the luxurious Amora Hotel Riverwalk. If your planning on spending the day at the races it's just an easy tram ride to the Flinders St Station and then to Flemington by Train.

Website

|

Email

Spring Racing at Fargo & Co

Enjoy the Spring Races with your friends at Fargo and Co. There's lots on offer during throught the race days with bottomless brunches & post race parties on select days. Plus for the Melbourne Cup enjoy a host of packages and activities including sweepstakes and prizes for best dressed.

Website

|

Email

Melbourne Cup Day Lunch

Race into the Temperance Hotel this Cup Day and indulge in a 2 course lunch. Enjoy watching all the races live on the screens throughout the venue with excellent prizes to be won on the day. Bookings from 12pm.

2 Course Lunch - $60 per person

Website

|

Email

|

Spring Carnival at Platform 28

Head into Platform 28 this Spring Carnival for some great offers. Enjoy a 2 hour Bubbles and Brunch package on Derby Day and for Ladies Day a 3 course lunch for the fillies with glass of champagne on arrival.

Derby Day Bubbles & Brunch: $60

Oaks Day Ladies Lunch: From $90

Website

|

Email

Cup Day Lunch at Mya Tiger

Not heading to the races? Enjoy a Cup Day Lunch at the Espy's Mya Tiger restaurant. Be treated to a banquet featuring eight of Chef Chan's favourites. Plus a champagne on arrival and all the races screened LIVE.

Cup Day Lunch: $89

Website

|

Email

Melbourne Cup Lunch

If you want something a little fancy this Cup Day then you'll enjoy the Smith's 3 Course Cup Day Lunch with glass of Veuve. For something a little less fancy head into the atrium for all the races LIVE on the big screen and LIVE music after the races.

3 Course Lunch: $60pp

Website

|

Email

Melbourne Cup Line Up

Head up to level on at the Provincial for an exclusive Cup Day party. You'll be treated to 2 hours of bottomless drinks, roving canapes, party music to get you dancing and if you want to keep an eye on the big race a big screen showing all the action. Starting early? Check out the Cup Day Rooftop Brunch.

Cup Day Bash: $60pp

Website

|

Email

Spring Racing Carnival

Get into the spirt of the Sping Racing Carnival with P.J.'s open everyday for Lunch Dinner or Drinks. Enjoy LIVE music every night with specials on the big race days including Oaks Day and Stakes Day plus Friday night Happy Hour and a Sunday Roast.

Website

|

Email

Spring Racing Champagne Breakfast

This Melbourne Cup Carnival get your crew down by the Yarra to the Boat Builders Yard early for a Champagne Breakfast on your way to the races.. Book at table for you and your crew. Get on a winner!

Website

|

Email

Spring Racing at The Duke

Watch all the major races LIVE on the screens, experience all the atmosphere of the bird cage without the trek out ot Flemington. And if you 're heading out to the track, why not book into the Duke for a pre-race day brekkie or post-race drinks.

All Major Race Days LIVE

Website

|

Email

Mansfield District Racing Club

Melbourne Cup Day Picnic Races

Spring Racing has got it all this Melbourne Cup Day with the Picnic Races in the country at Manfield District Racing Club. Enjoy Fashions on the Field, LIVE entertainment and plenty more.

Lawn Party Marquee Packages $70pp

Website

|

Email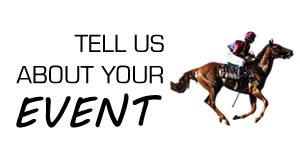 Post Cup Carnival there are more Big Days in Melbourne
Once the Spring Carnival horse racing in Melbourne is over the party people start to think about Christmas, Boxing Day and the Biggest of the Big Days, New Year's Eve. To checkout ideas for Christmas Parties and Christmas Day Lunches see Christmas Day Melbourne!
And with November turning into December that means New Year's Eve is not far away. At NewYearsEve.com.au we have all the best NYE events in Melbourne. See NYE Melbourne!